Joel Embiid suffered a right orbital fracture and a mild concussion in the closing minutes of the Sixers' 132-97 Game 6 victory in Toronto, the team confirmed on Friday night. The news was initially reported by Shams Charania of The Athletic.
Embiid suffered the injury with just under four minutes left and the Sixers holding a 119-90 lead, well on their way to closing out their first-round series against the Toronto Raptors. Pascal Siakam's left elbow hit the right side of Embiid's face as Siakam drove to the basket. The play, initially ruled a defensive foul on Embiid, was changed to an offensive foul on Siakam after review.
Embiid suffered a similar injury on the opposite side of his face back in 2018 when he collided with teammate Markelle Fultz. Embiid missed the final eight games in the regular season, and the first two games of their first-round playoff series against the Miami Heat, because of a left orbital fracture which required surgical intervention.
At this point the belief is that Embiid's current fracture won't require surgery, which means a potential return at some point during the series against the Heat has not been ruled out, according to sources. Currently, Embiid is listed as out, and the team says they will provide further updates as appropriate.
The Sixers' depth behind Embiid has been problematic ever since Andre Drummond was included as part of the trade deadline package to land James Harden. The Sixers signed DeAndre Jordan to fill the void after he cleared waivers, but the team struggled mightily defensively with him on the floor, giving up an average of 119.6 points per 100 possessions with Jordan at center. The Sixers then turned to second-year big man Paul Reed to be Embiid's backup against Toronto, despite the fact that Reed, 22, played just 302 minutes all season for the Sixers.
---
This is a free article for The Daily Six. If you're interested in becoming a subscriber to see more news and analysis about the Philadelphia 76ers, I'm running two promotions during this playoff run: a one month free trial on monthly accounts; and $10 off of a yearly subscription, with 100% of the proceeds from new yearly accounts that sign up during the playoff run being donated to charities to support the Ukrainian refugee crisis.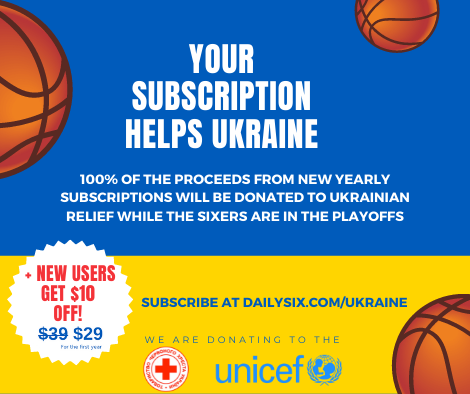 ---
Comments