While the Philadelphia 76ers are in the playoffs, The Daily Six will donate 100% of all revenue from new yearly subscriptions to charities to help support the people of Ukraine.
In addition to that, new yearly signups will be offered at a discounted rate of just $29 for your first year at The Daily Six. It is a win-win – you get premium Sixers coverage delivered straight to your inbox for less than $2.50/month, and all that money will go to people in need.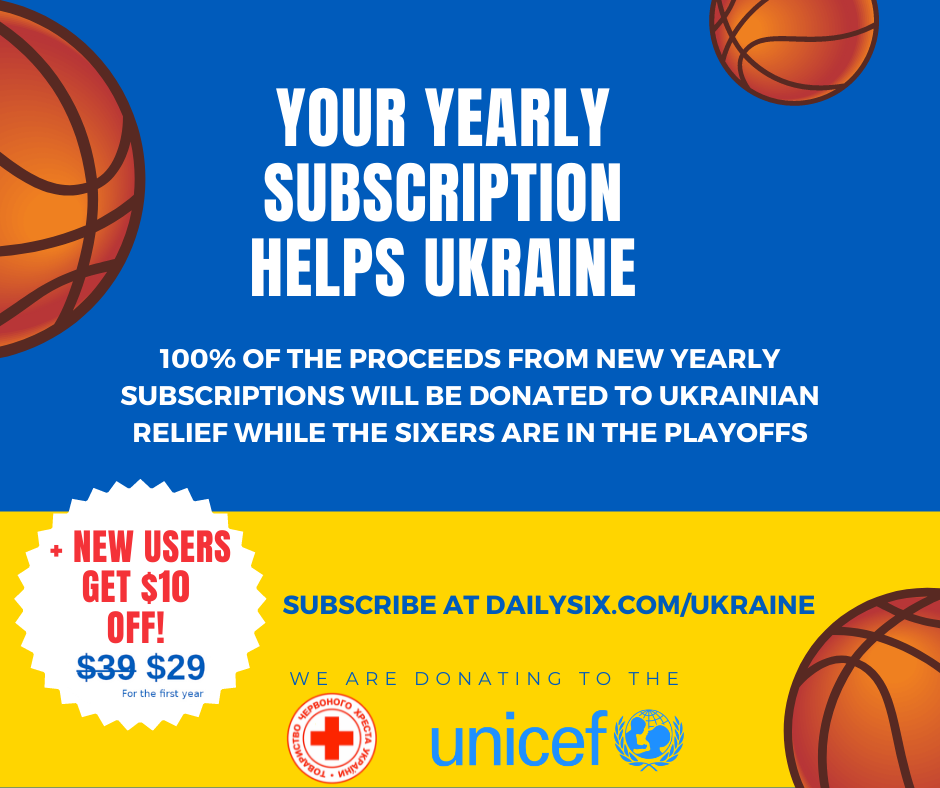 You can find out more about the benefits to subscribing here, and you can find out more about me and my background here.
After payment processing fees, that will come out to a donation of approximately $27.50 for each yearly subscription that is signed up for while the Sixers are in the playoffs. The donations will be split evenly between two charities: the Ukrainian Red Cross and UNICEF.

The Ukrainian Red Cross focuses on helping people currently inside Ukraine by providing shelter, basic necessities and assisting with evacuations. Read an interview with Pascal Hundt, the head of delegation at the International Committee of the Red Cross in Ukraine, about their efforts in Ukraine here, follow the Ukrainian Red Cross on Twitter here, and consider donating directly here.

UNICEF is working to provide urgent needs for children in Ukraine, and for those who have been forced to flee the country as a result of the ongoing conflict. You can  read more about UNICEF's efforts in Ukraine, and donate directly, at unicefusa.org.  
If you have any questions or concerns, feel free to email me directly.