In today's newsletter:
About last night's 137-133.
Key stats.
Stray thoughts.
Quotes.
Link roundup.
Last night the Philadelphia 76ers became the first team all season to win a game when their opponent shot at least 60% from the field, pulling out a 137-133 win against the Brooklyn Nets.
In fact, no team has shot as well as the Nets did last night (64.5%) and come away with a loss since the 1981-82 season, when both Golden State (70.5%) and Portland (64.8%) lost to the Chicago Bulls. Prior to last night, those were the only two teams in the StatHead database to shoot that well and still lose.
There are two ways to look at that.
You can either be encouraged that the Sixers were able to execute well enough offensively, with contributions up and down the roster, to come away with a win despite a fellow Eastern Conference contender shooting lights out from the perimeter. Or, you can be concerned that the Sixers' defense allowed the Nets, playing without Kevin Durant, to drop a 140.3 offensive rating on the Sixers after having averaged just 107.8 points per 100 possessions in their previous six games without Durant.
Longtime readers will likely know where I stand: it is both wildly encouraging how good this team is offensively, and massively concerning how frequently they struggle to compete on defense.
When you add everything up, from the first time that Ben Simmons and Joel Embiid have faced each other since last season's blockbuster trade, to the energy in the stadium, to the budding rivalry and tension between these two teams (and the tension between their star players), to Brooklyn's late comeback and to the fact that neither can match up well with the other defensively, it was a wildly exciting, somewhat encouraging but also incredibly frustrating night in South Philadelphia. A seven game playoff series between these two teams, with both healthy, would be epic, and anxiety inducing.
Before we dive into that let's get some of the practical bits out of the way. The win moves the Sixers to 2-0 against the Nets so far this season, which means they cannot lose the season series against a team that they're battling for position with near the top of the Eastern Conference. The win also moves the Sixers (currently 2nd in the East) two full games ahead of the Nets (4th) in the standings, and keeps the Sixers a half game up on the Bucks (3rd).
We're starting to get to a point in the season where pulling out a win against a team you're competing with, no matter how it happens and how frustrated you are in the moment, is significant.
On last night's 137-133 win
The key takeaway
That neither team can defend the other.
The Sixers and Nets are, somehow, ranked 7th and 8th in the league defensively, per CleaningTheGlass. I'm not buying either ranking, even acknowledging that Kevin Durant, one of Brooklyn's three really important defenders, was out of the lineup.
From the Sixers' perspective, Brooklyn is perhaps one of the two best jump shooting teams I've ever seen, behind just any of a half-dozen or so iterations of the Splash Brothers Warriors. The Nets are deadly not just from deep (39.4%, second best in the league), but also on long midrange Js (51.8%, best), and the Sixers felt every bit of that pressure last night, even with Durant out of the lineup.
Kyrie Irving and Seth Curry certainly made their fair share of very tough, very contested shots last night, something many on the Sixers were quick to point out after the game. Fair enough, they certainly did. For example, these were both made shots from Irving in the first half of last night's game. Tip your hat to him, as he made a pair of well-contested shots over the Sixers' two best perimeter defenders.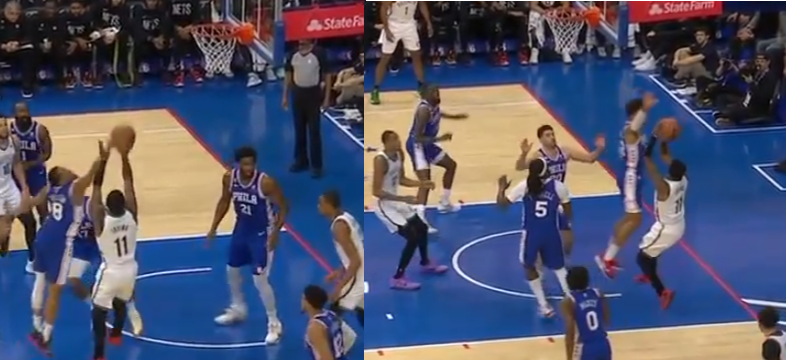 It's how the Sixers reacted to that which is discouraging. Tyrese Maxey fouled Curry on a 3. Maxey and Niang completely blew a switch to leave Curry (of all people) wide open for what was essentially a 3-point layup. Embiid started stepping up on the screen and either got lost in no-man's land in the middle, giving up open lobs or offensive rebounding opportunities to Nic Claxton, or trapped too hard on the perimeter, leaving the Sixers susceptible to slow rotations behind him. Tobias Harris had some inexcusable fly-by closeouts, somehow forgetting that Curry doesn't want to take the open driving lane, he wants to pump-fake and take the 3.
And that's even without Kevin Durant, perhaps the most unstoppable offensive player on the planet, on the floor.
It's one thing to give up points to one of the best jump shooting teams in NBA history, but it's another to compound that with mental mistakes and a halfhearted effort level.
From the Nets' perspective, they just have nobody who can even remotely guard Joel Embiid, as Ben Simmons is too short and Nic Claxton too slender. Embiid didn't necessarily take advantage of it as well as you would hope, and he seemed a little too interested in putting Simmons on a poster than he should have been, but give the Sixers seven games over the span of two weeks and I have no doubt that Joel Embiid is going to have a monster series.
On top of that, the Nets have too many weak perimeter defenders that the Sixers can attack. Run a pick-and-roll with Embiid and either Harden or Maxey (whichever one Simmons isn't defending), and the Nets can't switch. Run a small-small pick-and-roll and the Sixers can get whichever matchup they want to try to exploit on the perimeter. Add in how poorly the Nets rotate off of double teams and at least two out of Maxey, Embiid and Harden should have a mismatch to exploit almost every second they're on the floor, and that will result in not only high-value scoring opportunities for the Sixers' stars, but also in open perimeter shots from the Sixers' bombahs.  
Look for a bunch of games in the 130s if these two teams meet in the postseason.
Turning point