The Philadelphia 76ers and Toronto Raptors kick off their best-of-seven first-round playoff series tonight at the Wells Fargo Center, a rematch of the devastating 2019 Conference Semifinals series that ended with ... well, you know.
The preview below is broken down into various sections, starting off with an overview of each team's identity, before moving on to details on how the teams performed in the regular-season matchups, keys to the series for the Sixers, and stray thoughts on the backup center conundrum before finally wrapping it up with a series prediction.
---
This is a free preview article of The Daily Six. If you're interested in becoming a paid subscriber, I'm running two promotions during this playoff run: a one month free trial on monthly accounts; and $10 off of a yearly subscription, with 100% of the proceeds from new yearly accounts that sign up during the playoff run being donated to charities to support the Ukrainian refugee crisis.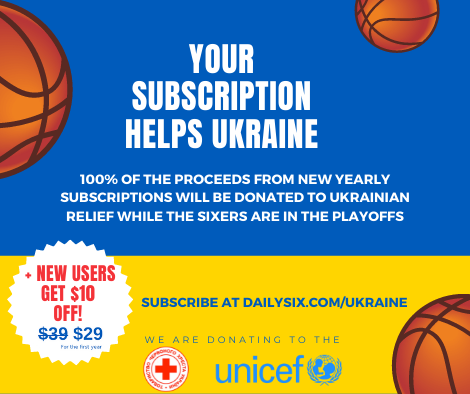 ---
Without further ado...
Four Factors - Sixers offense vs Raptors defense
| Team | Rtg (rk) | eFG% (rk) | TOV% (rk) | OReb% (rk) | FTr (rk) |
| --- | --- | --- | --- | --- | --- |
| 76ers offense | 113.0 (11th) | 53.4% (16th) | 12.9% (5th) | 24.6% (30th) | 28.2% (2nd) |
| Raptors defense | 109.9 (9th) | 53.5% (18th) | 16.2% (1st) | 28.6% (23rd) | 25.2% (17th) |
On paper, this mostly matches up strength for strength – the Sixers' strong ability to take care of the ball against the Raptors' consistently elite ability to force turnovers; the Sixers' anemic offensive rebounding vs Toronto's below-average defensive rebounding, etc.
It's worth noting that since Harden's Feb 25th debut a couple of those numbers have jumped considerably for the Sixers – namely that they've been averaging 117.8 points per 100 possessions since Harden began playing (3rd best in the league) and their free-throw rate has jumped all the way up to 33.9%, which leads the league over that span.
It does bring us to one of the undeniable keys to this series: whether the Sixers can solve Toronto's chaotic defense and take care of the basketball. The Raptors are incredibly average in the half-court offensively, averaging just 91.3 points per 100 plays in the half-court, per CleaningTheGlass. That 16.2% opponent turnover rate listed above does a lot of heavy lifting in helping to keep Toronto competitive, and makes the Raptors one of the best (and most frequent) transition teams in the league.
If the Sixers can keep their composure, take care of the basketball and keep this confined to a half-court game, it will go a long way towards the Sixers advancing to the second round.
Now we switch gears to how the Raptors' offense matches up against the Sixers' defense.
Four Factors - Raptors offense vs Sixers defense
| Team | Rtg (rk) | eFG% (rk) | TOV% (rk) | OReb% (rk) | FTr (rk) |
| --- | --- | --- | --- | --- | --- |
| Raptors offense | 112.1 (15th) | 51.0% (27th) | 12.8% (3rd) | 32.5% (2nd) | 23.4% (25th) |
| 76ers defense | 110.2 (12th) | 52.4% (11th) | 13.6% (18th) | 27.6% (19th) | 25.0% (13th) |
The key mismatch that jumps out here is Toronto's 35.2% offensive rebounding rate, matching up Toronto's strength against the Sixers' weakness. We saw that play out in a big way when the Raptors grabbed 20 offensive rebounds in a 93-88 win over the Sixers back on March 20th. The Sixers, somehow, have about a league-average mark in defensive rebounding, even though it's seemingly always felt worse when watching them play. Part of that is their offensive rebounding is last in the league, so the overall rebounding disparity ends up being huge. But part of it is that outside of Joel Embiid there just aren't that many contributors on the defensive glass. When the Sixers aren't locked in, they can look lazy and indifferent on the defensive glass, and that could burn them in this series.
You combine the turnover and rebounding battles from these two tables and it becomes clear that the Sixers are likely to lose the possession battle in this series. The key is whether they can keep it close enough to let their expected half-court scoring edge carry them to victory.
---
Starting lineups
| Team | Poss | Net Rtg | Off Rtg | Def Rtg |
| --- | --- | --- | --- | --- |
| 76ers | 148 | +7.3 | 124.3 | 117.0 |
| Raptors | 700 | +1.8 | 109.6 | 107.8 |
76ers = Harden, Maxey, Green, Harris and Embiid.
Raptors = VanVleet, Trent Jr, Barnes, Anunoby and Siakam.
Matisse Thybulle's absence changes this one significantly, as the Sixers with Thybulle in with this group instead of Green have a +20.3 net rating, and on a substantially higher sample size (660 possessions with Thybulle to just 148 with Green). But with Thybulle ineligible to play in Toronto that starting lineup won't be used for at least three of the seven games, and perhaps not any of them, as head coach Doc Rivers has started Green in Thybulle's place recently against the Pacers and Pistons, in addition to the mid-April trip to Canada. If you just include the Sixers' four consistent starters of Embiid, Harden, Maxey and Harris that foursome has a +17.9 net rating (123.1 off, 105.2 def) in 940 possessions.
I do wonder whether that starting five for the Raptors is what Nick Nurse ultimately decides to go with in this series. It has been their starting five when they've been fully healthy this year, but it would be almost comically undersized against Joel Embiid. Achiuwa has started three out of four of the games against the Sixers, but the Raptors have missed key starters in all of those games. My guess is you could see Precious Achiuwa inserted in there to help combat Embiid.
Keys:
Embiid averaged 29.3 / 11.3 and shot 46.6% from the field. Those numbers are a little bit inflated by the 36 points on 16 shots he had in a game when the Raptors were without Anunoby, Barnes and VanVleet. Embiid also had 8 turnovers to just 8 assists in the season series.
Harden shot just 33.3% from the field and 1-8 from 3 in his two games against the Raptors while a member of the Sixers.
Tyrese Maxey had a monster game against the Raptors earlier in the year, with a 33 point, 4 rebound, 5 assist performance (on 12-19 shooting) back in November, then had a 2-11 dud in December. Overall he was efficient, though, averaging 19.8 points on 53% shooting from the field in four appearances against Toronto.
Tobias Harris in four games against the Raptors: 12.8 points on 31.9% shooting, 18.8% from 3. Toronto's length really disrupts his offensive attack. He needs to take, and make, his spot-up 3s to remain effective.
Overall, the Sixers outscored the Raptors 245-234 in the 109 minutes that Embiid was on the floor for the regular season series, despite losing the season-series three games to one. They were outscored 202-180 in the 83 minutes he did not play. Sounds about right.
Fred VanVleet (32 on 11-22) and OG Anunoby (20/4/4) each played just one game in the four game series, which makes it tough to take too much away from what happened in the regular season, especially when you add in the fact that two of the four games happened prior to the James Harden trade.
Pascal Siakam averaged 30.3 points and shot 51% from the field in three games against the Sixers. He also chipped in with 25 assists to just 8 turnovers in the season series.
In all 3 games that Siakam appeared in, Tobias Harris was the Sixers player most frequently tasked with defending Siakam, with Joel Embiid the second most used defender. Siakam scored 23 points on 10-18 shooting against Harris and 18 points on 8-24 shooting against Embiid, per the NBA's tracking data.
Gary Trent Jr averaged 19.5 points, but shot just 36.5% from the field, in his four games against the Sixers. Nearly half (34 out of 74) of his shots came from beyond the 3-point arc.
Chris Boucher (8-16) and Precious Achiuwa (7-13) both shot greater than 50% from 3-point range.
---
All players for both the Sixers and Raptors should be ready to go for Game 1, but that doesn't mean both teams are fully healthy. The most prominent injury is Fred VanVleet's right knee, which has been nagging him since February, and which caused him to miss 12 of of the final 37 games for the Raptors.
The other major injury is OG Anunoby, who missed four straight games in April with a bruised thigh before returning for Toronto's season finale against the Knicks.  
While Nick Nurse is being coy with the media, I'd be stunned if either missed Game 1. The question is how close to 100% they are.
---
Toronto Raptors - Offensive identity
The Raptors don't have the kind of superstar scorer that would normally terrify you in a playoff series, although Pascal Siakam (27 points, 5.6 assists, 52.4% shooting over his final 20 games) can look like one on a good day. Siakam's not going to wow you with his elite court vision, but over the years he has gotten more and more comfortable making kick-out passes when the defense rotates, and he can create a decent number of open 3s as a result.
But what the Raptors lack in the form of a truly dynamic scorer they make up for in depth, with everyone in their starting lineup capable of taking a weak defender off the dribble. You'll see a lot of dribble hand-offs on the perimeter as the Raptors look to get someone off balance, or simply seek out a matchup to attack, which will then put the defense in rotation. Once that rotation happens, kick-out passes to the corner, and lanes to crash the offensive glass, open up.
That's especially problematic against the Sixers, since you don't have to work too hard to find a defender that struggles staying in front of his man on the perimeter. Once that happens, Embiid is forced to step up and contest the shot and all hell breaks loose.
The Sixers have approximately one defender I trust to hold his own on the perimeter in Matisse Thybulle, and he won't be available for three of the games. They need Danny Green and James Harden to be at the top of their respective games defensively, and perhaps just as importantly they need Tobias Harris, Georges Niang, et al to actually contribute on the defensive glass when Embiid does rotate to put out the dribble penetration fires.
---
Toronto Raptors - Defensive identity
Chaos. Toronto's defensive identity is pure chaos, and it's honestly fun to watch when they're not playing your local team.
"They just play recklessly, sending three guys at me as soon as the ball is in the air," Embiid said of Toronto's defense on Thursday. "Playing against them and watching them, they definitely made me a better playmaker.
"I'm not going into the series hoping to average 40. They're gonna get the ball out of my hands, so it's all about me really not getting frustrated and keep trusting my teammates over and over," Embiid continued. "It starts with me. All the attention they're gonna throw at me, I just gotta make my teammates better."
For as long as Nick Nurse has been coaching the Raptors they've been filled with long, rangy, athletic, switchable defenders. They use that length to aggressively pressure the ball, and are more than willing to get themselves into rotations to make the most of their personnel. The bet that they're making is that they can recover from their gambles more consistently than you can handle their pressure.
And more often than not they're right, as over the last three years Toronto ranks 1st, 1st and 2nd in forcing turnovers. The flip side to that, though, is that if you do handle their pressure well, they'll give up some decent looks – if your ball movement is crisp and your decisions are decisive. Over that same three-year span Toronto ranks 30th, 28th and 30th in the frequency that opponents shoot corner 3s. It's a shot they're willing to concede, in part because they're confident that their rangy defenders can recover back, but in part because they know the trade-off is worth it if they can continue to fluster the other team's offense and generate turnovers.
In the two games the Sixers lost to the Raptors during the brief Embiid/Harden era, one was a 119-114 loss where the offense more or less executed fine, with a 121 offensive rating. The problem in that game was that the Sixers just couldn't get a stop, and even when they did, they likely gave up an offensive rebound.
In the other game – the 93-88 slog – the Sixers shot just 7-27 from 3-point range. If the Raptors are going to willingly concede these shots, the Sixers have to do better than that.
---
During the four game regular-season series against the Sixers, the Raptors won two key areas in a big way: second-chance points and fast-break points. In fact, the Raptors averaged a combined 39.1 fast-break and second-chance points against the Sixers, compared to just 19.5 for the Sixers. That's the exact formula a team needs in order to overcome an edge in the talent gap.
In both instances this is a pronounced Toronto strength against an equally pronounced Philadelphia weakness, so I don't necessarily expect this discrepancy to just evaporate now that the Sixers are playing more meaningful basketball. While they're unlikely to win these battles, they can't get obliterated in them, either. Tobias Harris, Georges Niang and James Harden, who all spent significant portions of the previous two games against the Raptors dozing off and watching their man come flying in for offensive rebounds, need to be locked in on the glass in a way they just haven't been in previous meetings between these two teams.
Offensively, the Sixers need to punish Toronto's switches with deep post catches for Embiid, getting him closer to the basket and giving Toronto less time to swarm him. Similarly, they have to aggressively hunt mismatches for Harden to exploit. He might struggle against the size and length of guys like Scottie Barnes and OG Anunoby, but he should be able to punish Fred VanVleet and Gary Trent Jr, especially given the nagging injuries that has caused VanVleet to struggle down the stretch. As much as the Embiid/Harden pick-and-roll has become the Sixers' bread and butter, some small-small screening might be crucial.
Denying dribble penetration, specifically to Pascal Siakam, is the non-rebounding key on the defensive side of the floor, and to be honest it even ties into the rebounding angle as well. A couple of years ago Brett Brown switched Joel Embiid to be the primary defender on Siakam in the 2019 playoff series. That worked in large part because of Siakam's absurd shooting splits – he shot 42% on corner 3s and just 26% above the break that year, allowing Embiid to roam off of his fellow Cameroonian whenever he drifted away from the corners.
Siakam still has pronounced shootings splits, but he is up to a more respectable 32% on non-corner 3s, so the task has become tougher for Embiid. Still, when Siakam isn't able to pass over his defender and hit those kick-out passes, Toronto's half-court offense can grind to a half, and Embiid's the only one on the Sixers who can truly match him physically. How many possessions can Embiid give you on Siakam, while still being a presence at the rim and having the energy to expend as the team's offensive focal point?
And, of course, they can't get obliterated in the 8-10 minutes that Embiid heads to the bench. Back when the Sixers acquired Harden I thought that meant staggering Harden and Embiid as much as possible. I may have been wrong on that. Now I think I'd prefer to let Maxey run the show with the second unit, and keep the Sixers' two stars tied together for as much as possible.
And, of course, DeAndre Jordan can't play in this series. More on that below.
---
The backup center problem and other stray thoughts
"Let me clarify this one more time, for everybody who struggles with this," Sixers head coach Doc Rivers said on Sunday following the Sixers' regular-season finale against the Pistons. "When there's a small lineup -- I'm gonna say it slow so we can all pick it up -- we'll play smaller with Paul [Reed]. When there's a big 5 [center], we play bigger with DJ [DeAndre Jordan].
"Do we all have that now?" Rivers concluded.
Based on his own admission, this is a series that DeAndre Jordan shouldn't see the floor, as Toronto primarily plays Pascal Siakam (6-foot-9, 34.4% from 3), Precious Achiuwa (6-foot-8, 35.9%), Khem Birch (6-foot-9) and even Thaddeus Young (6-foot-8, 39.5%) at center. In fact, if you take Rivers' salty, snarky response at face value, Jordan shouldn't see the floor at all during this postseason run, as the Sixers won't run into what I would classify as a "big center" at all during the Eastern Conference Playoffs, with the possible exception of Brook Lopez in a Conference Finals matchup against the Bucks.
But more to the point, DeAndre Jordan shouldn't see the floor in this series because ... he's been awful. Unplayable, undeniably, entirely predictably awful.
The question that Doc was responding to was one that I asked, and one that didn't have anything to do with uncertainty over Paul Reed's role going forward. Instead, it was about whether Paul Reed was ready for the role given how few meaningful, high-leverage minutes he has played this year. Consider this: from January 1st until April 6th, when Rivers finally started playing Reed as the backup center, Reed had played just 22 first-half minutes over a 43 game span. Even Charlie Brown Jr (89 first-half minutes) got significantly more non-garbage time minutes than Bball Paul.
My stance that the Sixers need to play Paul Reed over DeAndre Jordan is less about Reed and much more about Jordan. Any time I've talked to anyone around the team about Reed over the last two seasons the conversation has centered around Reed "playing within the system" or "knowing his role." It's basically code for the team not trusting his decision-making, which is a criticism you heard about him in the lead-up to the 2020 draft as well, and one of the primary reasons he fell to the 58th pick in the draft.
Reed brings a level of chaos to the game – against both teams. That can be tough for a coaching staff to warm up to. Personally, I've been more intrigued by Charles Bassey, who may not make as many plays on the ball as Reed does but will be in position more often than Reed is, and even more often than Jordan, in my opinion. But that option has gone out the window, not only because of Bassey's shoulder injury but because he's played in even fewer meaningful minutes than Reed has.
But where I may not be as much of a believer in Reed as some, I'm very much a disbeliever in DeAndre Jordan being a viable playoff performer, and have been since the moment he was signed.
Back on my March 4th column I wrote that "I don't think he is [playable], and I think we'll see that play out over the coming weeks, especially on the defensive end" and that "my concern isn't so much that Jordan will be on the roster, it's that Rivers will look to Jordan as his answer to the backup center question, rather than as one of the options at his disposal", adding in that "I'm not sure I see Jordan's veteran presence carrying much tangible benefit, just the lack of mobility that comes with aging and an undeserved level of trust from the coaching staff because of his birth certificate."
That has all played out over the course of the last two months, as upon making his Sixers debut on March 7th Jordan played in 15 of the next 16 games, with the only game he didn't appear in (March 29th against Milwaukee) Rivers gave the backup center minutes to Paul Millsap instead, letting the 37-year-old try to compete against Giannis Antetokounmpo, of all people. Charles Bassey didn't play a minute with the big club over that stretch, and with the exception of a March 20th game against these Raptors, Paul Reed played in only garbage time minutes.
That was all despite the fact that DeAndre Jordan looked downright atrocious defensively right from the very start of his Sixers career. Over the course of his Sixers tenure, opponents are shooting 77.2% at the rim when Jordan is in the game. That's in the 0th percentile of all lineups*, according to CleaningTheGlass.
(*note: last time I quoted a 0th percentile, I had a few people question me on whether such a thing even exists. I'm going off of CleaningTheGlass's lineup data here, and the conventions that they use. If you disagree with the 0th percentile being a thing, take it up with them. The point is it's really freakin bad).
Players shoot 70.6% at the rim when he's in the vicinity, which would legitimately be one of the worst in the league if he contested enough shots to qualify. Add these two numbers up and they show that Jordan is frequently out of position, and even when he's in position, he doesn't alter any shots.
Synergy has him giving up 1.177 points per play to ball handlers in the pick-and-roll, the second worst among all 169 players who have defended at least 60 such possessions. And the team has been dreadful defensively with him on the court, allowing 117.4 points per 100 possessions, something that has been evident right from the start.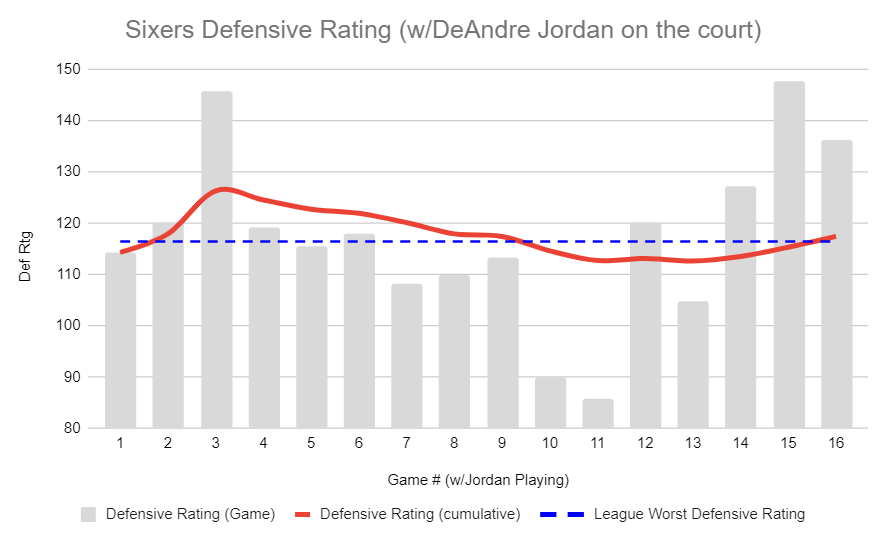 (The Sixers' Defensive Rating when DeAndre Jordan is on the court, broken down by each of his 16 regular-season appearances. The red line is the Sixers' cumulative Defensive Rating with Jordan on the court, and the blue line is the equivalent of the worst defense in the league, for context. Source: nba.com).
Do I believe in Paul Reed's decision-making? No, not really. In fact, if I were a Sixers fan I'd be wildly uncomfortable relying on him in a meaningful playoff role. But I also know that even if Reed makes mistakes, he will at least give you hustle and athleticism. Jordan gives you none of the above, a statue who is out of position thanks to bad decision-making and without the mobility, or desire, to recover.
And because Rivers and his coaching staff were slow to join the reality that the rest of us arrived at early on, the Sixers will go into the playoffs relying on Reed, despite the second-year big having virtually no meaningful NBA experience.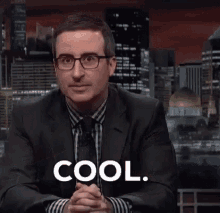 Other stray thoughts:
How Fred VanVleet (knee) looks will be a critical component to the series. Prior to injuring his right knee in mid-February, VanVleet was having a career year, averaging 21.4 points and 6.9 assists, while shooting 39.8% on 10 3s a game. Since then he's averaging just 16 points and shooting 34.7% from the field and 28.3% from deep, while being in and out of the lineup because of the knee. Toronto can already struggle in the half-court. If VanVleet is significantly less than 100%, the Raptors become much easier to guard.
Embiid averaged just 2.7 assists per game against the Raptors this year, but I think a lot of that came down to perimeter shooters missing open looks, especially Tobias Harris and Georges Niang. He needs to not get frustrated if that happens early on in the series and continue to trust his teammates, because if he doesn't he'll play right into Toronto's frenetic style of defensive.
I wonder how much extra burst Harden might have early on in the series, after having just rested and rehabilitated the hamstring for the past 8 days. The last time he sat for an extended period of time he did seem to have a bit more burst out of his breaks than he's had of late. If that's the case, it would be huge for the Sixers, even if the gain is short-lived.
Figuring out how to hide Matisse Thybulle in the half-court (for games in Philadelphia) will be key. I talked a bit above about how willing Toronto is to help off of the corners, and if Thybulle's in the game, they barely pretend he's there. The Sixers could obviously use Thybulle's defense, but Toronto is going to try to exploit Thybulle's lack of shooting in a big way, and the Sixers need to find a way to counteract that.
I think this is going to be a tough series for Tobias Harris, in part because Toronto has so many lengthy perimeter defenders. That being said, he's received a lot of wide-open looks over the last two meetings between these two teams thanks to Toronto's aggressive help defense, and rarely capitalized on them. The Sixers need him to make those shots. Just as importantly, the Sixers need him to continue to take those shots if he does start off in a slump.
I can't emphasize enough how pathetic the Sixers' defensive rebounding has been in some of the games against Toronto earlier this season. Unless the Sixers all of a sudden become great at denying dribble penetration, Joel Embiid is going to be forced to rotate away from the rim, and the Sixers' perimeter players are going to have to get a body on their man and slow down Toronto's assault on the offensive glass.
Tyrese Maxey should feast. Despite Toronto being a very good defensive squad overall they do have a couple of perimeter defenders who can be exploited, especially if Fred VanVleet is significantly less than 100%. Maxey should have a speed advantage for much of the series, and they need him to exploit that – especially if and when he's leading second units.
---
Adding this all up, and where do I stand?
There are a lot of red flags in this series that go in Toronto's favor, and they have a defense that has flummoxed Joel Embiid in prior years, and one that seems tailor-made to make James Harden's life difficult.
But the Sixers have Joel Embiid. And while Embiid has struggled against this team in the past, he's at a different stage of his career. He sees the game better than he ever has, is coming into this playoff series as healthy as he has ever been, and has more shooting around him than he has in prior playoff runs, even if that last one is still not perfect.
As much as Nick Nurse and the Raptors might concern me if I were the Sixers, if I have to make a call I will bet on Joel Embiid figuring it out over the course of a seven game series. This is awfully reductive, but I think having the MVP caliber player is going to prove to be the difference, especially if they can get one or two games out of Harden where he turns back the clock a little bit.
Prediction: Sixers in 6.
Comments