A week with wins over the Celtics (4-6 in their last 10 games) and Wizards (3-7) doesn't exactly prove that the Sixers are back on the path to being a team ready to make any kind of noise in the playoffs. But after what was a pretty disastrous 0-3 showing in the previous week, it's at least a step in the right direction.
What's more, Joel Embiid looked downright dominant, especially during the fourth quarter up in Boston, and during the opening minutes against the Wizards. As Embiid starts to find his midrange groove again, he's looking every bit like the dominant player who was runner up in MVP voting last season, and a legitimate Defensive Player of the Year candidate as well.
It's not enough for the Sixers to be a contender, though, as Embiid desperately needs help. Embiid is good enough that he almost single-handedly makes the team relevant, but he's also good enough that there's tremendous urgency to not squander his talents with a middling team around him, which is why all eyes turn to Daryl Morey over these next six weeks
---
---
Overview of the Sixers' week
Emerging trends
ICYMI
The week ahead
---
---
Record: 2-1
108-103 win @ Boston
96-98 loss to Atlanta
117-96 win @ Washington
Overview

| Overview | Off Rtg | Def Rtg | Net Rtg |
| --- | --- | --- | --- |
| Last week | 113.1 (15th) | 105.9 (7th) | +7.2 (10th) |
| Season to date | 110.5 (16th) | 109.7 (12th) | +0.7 (13th) |
Offense

| Offense | eFG% | TOV% | ORB% | FTR |
| --- | --- | --- | --- | --- |
| Last week | 53.2% (12th) | 12.4% (10th) | 20.3% (28th) | 28.9% (1st) |
| Season to date | 52.7% (17th) | 12.9% (5th) | 22.1% (30th) | 20.3% (1st) |
Defense

| Defense | eFG% | TOV% | DRB% | FTR |
| --- | --- | --- | --- | --- |
| Last week | 49.2% (5th) | 15.1% (7th) | 71.4% (19th) | 22.7% (23rd) |
| Season to date | 52.0% (11th) | 14.1% (17th) | 72.9% (24th) | 18.0% (14th) |
You can find player stats for the week here.
Highlights: Joel Embiid had a dominant week, averaging 33.3 points, 11 rebounds, 2.7 assists, 2.7 blocks and 1.3 steals per game. Tobias Harris (21.3 points, 51.2% shooting) had his strongest stretch of play in a while, and Seth Curry (16.3 points, 8-13 from 3) found his touch from deep after a brief "slump" (at least, what qualifies as a slump when your last name is Curry) the previous week.
Lowlights: On the aggregate, most players had a strong week offensively. The real complaint comes in that complete, inexcusable dud of a performance against Atlanta, who were playing without Young, Capela, Gallinari, Lou  Will, TLC, Hunter and Hill. The Sixers had no business losing that game on their home floor, and when they look back at the end of the season and don't have the playoff positioning they want, it's efforts like that which will stick out like a sore thumb.
---
---
Coming into the season there was a lot of attention over how the new crackdown on non-basketball moves would impact the ability for the league's stars to live at the free-throw line. That's of particular interest to Sixers fans, as Embiid's 61% FTr (free-throw attempts per field goal attempt) was the highest among the league's 20+ point per game scorers last season.
As a result of the changes, free-throws are indeed down leaguewide. The league attempted an average of 24.7 free-throw attempts per 100 field goal attempts last season, which is down to 23.2 so far this season. Last year, seven teams had a FTr greater than 26%. This year, only one (Houston) does.
The good news for Sixers fans, though, is that Embiid hasn't been impacted much so far. While his FTr is down slightly, from from 61% to 58.6%, it's more that 2020-21 was an outlier good season for the Sixers' big man, as he had a 54.2% FTr the two years before that. In fact, Embiid's 58.6% continues to be the top rate in the league among 20+ point per game scorers.
Coming into the season there was a lot of scrutiny over how the rule changes would impact some of the league's more egregious actors, with Embiid, James Harden and Trae Young drawing much of the speculation. It became an especially hot button topic when Embiid (6 FTA/g over his first three games), Harden (3.0 over his first five) and Young (4.3 over his first six) all came out and struggled to get to the line to start the season.
Young has, thus far, not adapted, with his 30.6% FTr a career low, and well below what it was the previous two seasons (46.8%). Embiid and Harden, on the other hand, have bounced back to form of late. In fact, Embiid's FTr (58.6%) is the second highest of his career and continues to lead the league, and he's reached double digits in free-throw attempts in 10 of his last 13 games. Harden's (51.5%) FTr is higher than what he averaged in his final three full seasons in Houston (49%).
When you look at the top foul drawers among the league's 20+ point per game scorers, the top of the chart is relatively unchanged. Players who are either basketball savants or unguardable physical brutes (in Embiid's case, both) have been able to find ways to navigate through the new rules and maintain their previous foul drawing levels. It's that next tier which has struggled under the new rules. Previously, there would be a group of high-level scorers who would settle in the 38-50% FTr range, but that tier has now largely been vacated, with the second cluster of high-level scorers instead coming in at the mid-30% FTr range.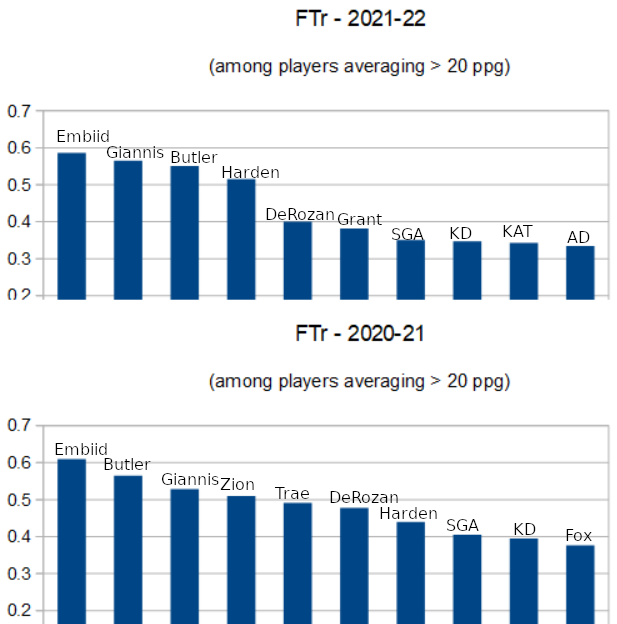 The top free-throw rates among 20+ ppg scorers. Source: Basketball-reference.com
It will be interesting to see how all of this changes as players get better acclimated to the new rules, and what they can and can't get away with under the new interpretations. The end result is probably some form of a middle ground, where the league's second tier of foul drawing stars gets to the line more than they currently are, but not as much as they previously did, which would mean that if Embiid keeps his rate up it would become an even greater advantage than it previously was.
---
---
Earlier in the week I released a new Sixers mailbag. I talked about a couple of things in there, including:
Why the Sixers are such a poor rebounding team
The ideal fit to pair alongside of Joel Embiid
Whether bringing back Danny Green last offseason was a mistake
You can read the full mailbag here.
---
---
Tuesday: @ Toronto, 7:30 pm
Thursday: @ Brooklyn, 7 pm
Comments