The Sixers will start their 2023 playoff run this afternoon against the Brooklyn Nets. Here's everything you need to know about the matchup.
Included in this post:
Sixers vs Nets first-round schedule.
An overview of the previous matchups between the two teams.
A statistical comparison between the Nets and Sixers.
Scouting Brooklyn's offense.
How the Sixers can beat Brooklyn's defense.
My Prediction
76ers vs Nets playoff schedule
4/15 (Sat): Nets at Sixers, 1 pm, ESPN.
4/17 (Mon): Nets at Sixers, 7:30 pm, TNT.
4/20 (Thur): Sixers at Nets, 7:30 pm, TNT.
4/22: (Sat): Sixers at Nets, 1 pm, TNT.
4/24 (Mon): Nets at Sixers, TBD.
4/27 (Thur): Sixers at Nets, TBD.
4/29 (Sat): Nets at Sixers, TBD.
The regular season matchups
Acknowledging the weirdness
Only two of the Sixers' games against the Nets came after the Kevin Durant trade, and one of those came on the final day of the season, when the DNP-CD list included Joel Embiid, James Harden, Tobias Harris, Tyrese Maxey, De'Anthony Melton, PJ Tucker, Seth Curry, Dorian Finney-Smith, Cameron Johnson and Royce O'Neale. Mac McClung logged 33 minutes off the bench in that one.
That leaves just one matchup between these two teams that might give us even a tiny bit of meaningful information when trying to determine how this series will play out. And even that game – the come-from-behind Sixers win on February 11th – came with extenuating circumstances, as the Sixers were on the tail end of a back-to-back, and the Nets were playing their first game with Mikal Bridges in the lineup. You can pretty much take the season series, which the Sixers won 4-0, and throw it out the window.
---
Statistical comparisons
I'm going to include three sets of comparisons here: overall team performance, the performance of the starting lineups, and shooting splits.
For the Sixers I'm including stats from the full season, as you would normally do when looking at a team. But for the Nets I'm only going to include games after the Kevin Durant trade, as any stats from before that point in the season aren't really representative of what will play out in this series.
Most of the stats are from CleaningTheGlass.com, with the exception of the pull-up and no-dribble stats in the final comparison. Stats in bold are the team that performed better in the comparison.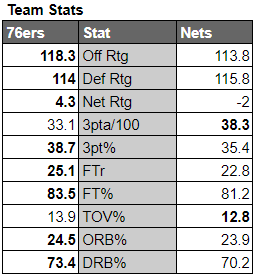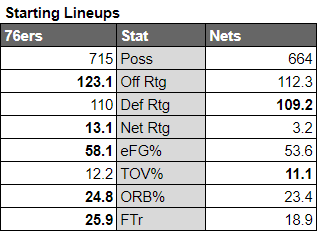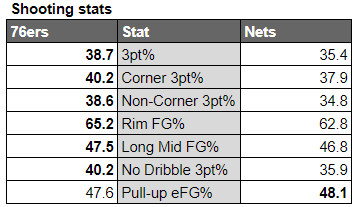 76ers player stats vs Nets (4 games):
Joel Embiid (2 games): 31.5 points, 11.5 rebounds, 2.5 assists, 50% shooting, 12.5 ftm/game.
James Harden (2 games): 26 points, 6.5 assists, 4.5 rebounds, 46.9% shooting, 43.8% from 3 on 8.0 attempts.
Tyrese Maxey (2 games): 19.5 points, 3.5 rebounds, 4.0 assists, 48% shooting, 46.2% from 3 on 6.5 attempts.
Tobias Harris (3 games): 15 points, 5.0 rebounds, 43.9% shooting, 37.5% from 3 on just 2.7 attempts.
---
Scouting the Nets' offense.
The growth of Mikal Bridges
Coming into the season, Villanova product Mikal Bridges had never averaged more than 14.2 points per game in a season, with career averages of 11.3 points, 3.9 rebounds and 2.1 assists over his four year career, settling in as a star in his (relatively limited) role on the once title contending Phoenix Suns.
But even with the Suns Bridges had increased his scoring output each and every year (8.3 -> 9.1 -> 13.5 -> 14.2 -> 17.2 this season before the trade), almost like clockwork. So you knew he'd find some level of success now that he'd have the ball in his hands a whole lot more with the retooling Nets.
But what Bridges has done in 27 games in Brooklyn has been pretty incredible, as not only is he scoring a team-high 26.1 points per game over that span, but he's doing so on a 60.7% true shooting percentage. He's shooting the ball well from the perimeter (37.6% from 3 on 6.7 attempts per game), getting to the free-throw line at a career-high rate (35.6 FTA per 100 FGA), and barely turning the ball over given how much he has it in his hands. In fact, his 7.8% turnover rate is a career low, which isn't something you normally say for a player stepping into a featured role for the first time in his career.
You'd be hard-pressed to find an area where Bridges hasn't grown as a scorer over the years, but where it's most evident is as a pull-up jump shooter.
During the first two seasons of Bridges' career he attempted just 0.9 and 0.7 pull-up jump shots per game, which represented just 13.7% and 10.5% of his overall shot attempts in those seasons, respectively. As Bridges' role in Phoenix's offense grew, and as he gained confidence as a scorer, those pull-up jumpers steadily became a more significant part of his offensive diet in Ph0enix, representing 24.1% and 33% of his total shot attempts during his last two seasons (2021-22 and the first part of 2022-23) with the Suns.
That took yet another massive jump after Bridges was sent to Brooklyn, with pull-up jumpers now taking up nearly half (47.1%) of his total shots since joining the Nets.