Time for another Likes and Dislikes column. In this one we'll talk about:
+ Tyrese Maxey's growth
- The Sixers' struggles defending in transition
Let's get right into it.
👍
Like: Tyrese Maxey's outlier growth
Given all of the hubbub around the 76ers this season, from the Ben Simmons holdout and trade demand, to the acquisition of James Harden, and another push for Joel Embiid's first MVP award, it can be easy to overlook the meteoric rise of Tyrese Maxey, who is still just 21 years old, despite the progress he has already made in his NBA career and the poise that he plays with on a nightly basis.
But Monday night's game, where Maxey dropped 28 points, including 13 in the fourth quarter, to lead the Sixers over the East-leading Miami Heat, despite the absences of Joel Embiid and James Harden, serves as a worthwhile excuse to provide another update on how much Maxey's game has grown in his short basketball career.
When looking at Maxey's rise, it's impossible to not start off with how much improvement he's shown in his shooting – at all levels, and of all styles. And as we get deeper into the season, with an increasingly large sample size, these numbers have become even more significant.
The graph below shows effective field goal percentage on four shots – two broken down by distance (3-point shots, and shots between 17' and the 3-point line), and two broken down by styles (off the catch, and off the dribble).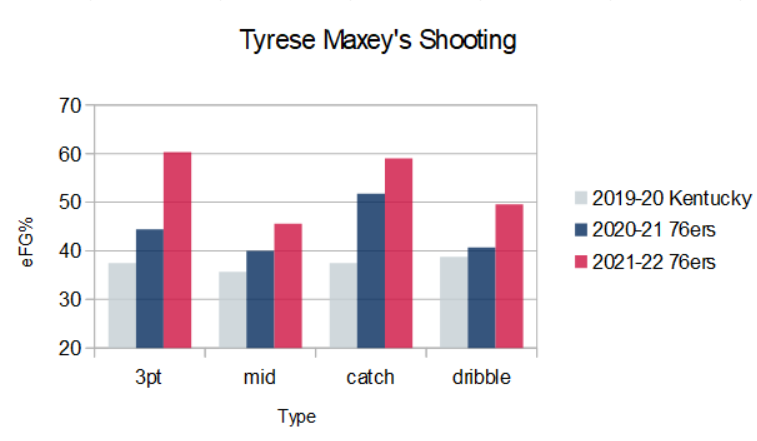 (Source: Synergy Sports)