Daryl Morey joined Mike Missanelli on 97.5 The Fanatic to talk, mostly, about the status of Ben Simmons and the upcoming February 10th trade deadline.
Here are some quotes from the conversation, grouped by topic, and clipped for brevity and relevance. The full interview is available here. I have provided timestamps at the beginning of the specific quotes below, so you can go listen to the audio yourself and get the full context. The timestamps below are from my own recording of the interview.
In my newsletter post this morning I touched on some of my own thoughts about Joel Embiid, his greatness, and why the goal with the Simmons trade isn't to salvage this season for Embiid, but as a last chance to get Embiid the running mate he deserves. If you're already a Daily Six subscriber go check that article out. If you're not, consider signing up to support independent, in-depth journalism about your favorite team.
Since I already provided my own analysis on this topic, this post will just be me relaying what Morey said on the radio.
---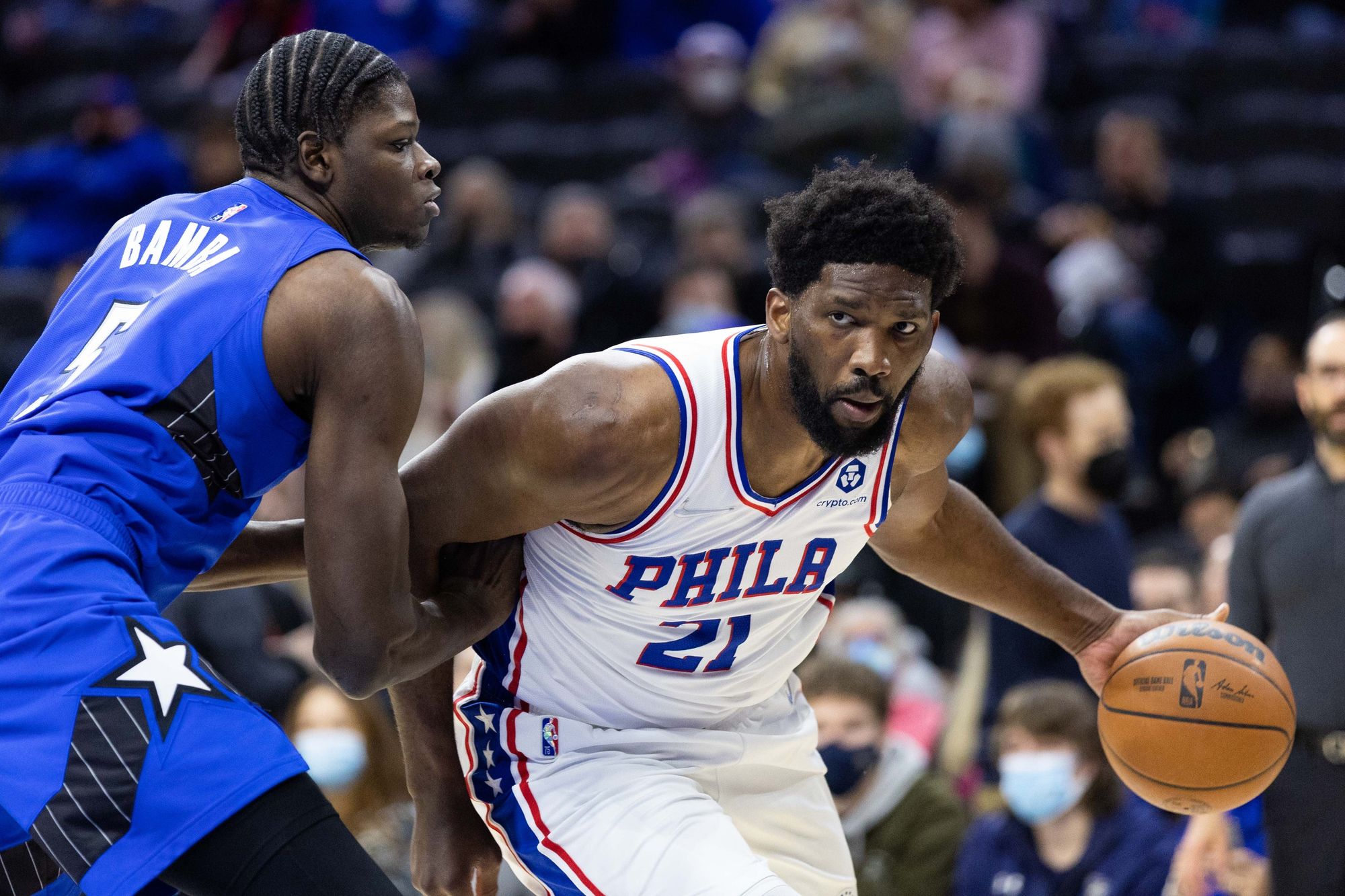 ---
Note: my goal in transcribing this was to be as quick, and as accurate, as possible. Please ignore any typos and grammatical mistakes. This isn't intended to be a story as much as it is a resource to relay the most important topics that Morey touched on, since I was transcribing it anyway.
On the sense of urgency that Embiid's play creates
[1:04]
"We're all seeing greatness, and in a person who's a great person as well. It's special. It makes all of us as a Sixers organization get up every morning and say "Look, how can we win a championship." And obviously we'd be winning it not just for Joel, but the city and the fans and everybody, but it feels like an extra responsibility when you have someone this great to make sure we do the right things."
[5:06]
"Everyone sees what's happening with Joel and how special that is. And all of our reaction, our emotional reaction, including mine, is we have got to do whatever we can to help him. And that reaction is correct. But I think it's the initial reaction that that means that we should just get the best thing possible in February. I think that leads you to a bad place. It's precisely because Joel is playing so amazing that this deal has to be the one that addresses our needs. Addresses our defense, which isn't playoff good enough at this point. Addresses our rebounding, which isn't playoff good enough. Addresses our playmaking, as Doc said, very important that we improve that. It's important we improve our transition (game). We have, actually, a lot of things we need to improve."
On the need to get a difference maker
[6:00]
"Anyone who watches a lot of NBA basketball throughout history knows that you can not do that across multiple players. It just doesn't work. They can't all play. And as we add players it means that really good, solid players that we have, like a Thybulle, as an example, they just play less. Or a Maxey plays less. It really is important that the player we add to Joel, if we really want to take our odds from wherever they're at right now to something materially higher, it has to come back in an impact player."
[6:57]
"If you trade one of these great players for multiple (players), it does not move your championship odds enough to make a difference. It might take us from where we're at now to a little bit better, but it's very slightly better. And we want to, for Joel, we have to make sure we get this right and that we move ourselves into a higher tier of ability to win the championship, and not just nudge ourselves from having the 7th best chance to maybe the 6th best chance in the league. It just doesn't make sense."
On potentially not making a deal at the deadline
[8:30]
"If all the trades at the February deadline only help us in a very marginal way, what we've done is not really helped our chance this year, we just feel better about ourselves because there's a couple names that people maybe recognize, and we're like "Oh, this is exciting, we've got a couple new names", but we really haven't changed our place, and now we no longer have that ability to get an impact player later. This is literally our way to pair Joel, with Tobias, and another impact player to give ourselves a real chance to win. And if we just do a marginal trade that's mostly sideways, because we'll all feel better that there are names playing on the court, that will hurt Joel, that will hurt the 76ers, that will hurt our whole roster in the long run more than if we're patient."
[9:41]
"If they think we're burning the season away without trading Ben, we are not only burning this season away if we trade Ben for something that makes everyone feel good, we're also burning away all the other future seasons. We're burning way more by doing a marginal trade than if we are patient. We have a solid chance this year, and then we also have the ability to win more in the future as well."
[10:27]
"We're not looking for a stellar deal. We are looking for a deal that makes us a championship contender, in the top 2 or 3 in the league at winning the title. Those are the teams that win. If we do a deal that takes us from the 8th best chance to win the championship to 7th, you're looking at like a half a percent better. And everyone feels better, because Ben Simmons, who people want gone, people will feel better that that name is no longer there, but our odds haven't changed much at all, and now we've not only burned away this season, we burned away our future as well."
On whether anything is close
[12:17]
"We've had conversations with pretty much every team in the league about Ben. I can tell you for a fact that nothing's gotten into, at this point, into a range (of being close). And generally they don't get into a range of a possible deal until you get closer to the deadline."
[23:30]
"I think it's less likely than likely (that they make significant deal at the deadline), but hopefully I'm wrong. Like, look, it won't be from lack of trying. We have a whole team of front office (executives). That's all we do. We have no other job that matters. It's all we're working on."
[23:53]
"I can tell you that these other 29 teams, none of them wake up and say 'Hey, today, how can I help the 76ers get better'. They all wake up worrying about their own teams. The main reason I say less likely than likely is it takes two or three to tango, and trades are not easy to construct in this league. There's a lot of risk aversion. There's a lot of decision makers that have to be hurdled. It's very complex to put a deal together, and that always makes it less likely than likely to get a deal done."
On yesterday's rumor about the Sacramento Kings
(Link to the report from the Philadelphia Inquirer)
[13:06]
"I can tell you that for sure there are deals with the Sacramento Kings that I think would work. Will those deals ever happen? I have no idea. Are they just straight deals with the Kings? Probably not. Is it multiple teams? Probably. But for sure there are deals that are possible, that would go over our line."
On his asking price dropping from requiring a top-30 player back in return.
[13:32]
"I do think with how great Joel is, our line has moved down a little bit. How much? Because Joel has lifted us into contention by his sheer will of greatness this year, that does push the number of deals that we would do are more likely. It's more likely that we can find ones that get us into that top few contention because of how great Joel is playing. So we are sitting right now as a better chance of a trade that actually helps Joel, and the Sixers, and Tobias and our whole team. There's a better chance one happens because of how great Joel is playing."
[14:36]
"Because Joel's playing amazing, and has lifted us into probably 5%+ title odds just on his play, now we might be able to do it with a top 40 player who's a great fit.
[14:54]
"Or we could do it where we do a trade, it helps the team, it's a better fit, and maybe our future opportunities are still open because we get some draft picks as part of it. So it ups our odds enough this year, and we maybe have a draft pick or a young player who could help us into the future, who might develop. Like, if we got a player of the caliber of Maxey coming back, we might be able to say 'Okay, we got a really solid player who's maybe not in the top 30, but he's a little bit below that, plus a solid young player who, over Joel's prime, which we're sitting in, might develop into that'. So it opens up more possibilities of deals."
On the chances of Simmons returning to the team
[15:51]
"I think action comes from dialogue, and that meeting was really about getting the dialogue to a better place....There's been more conversations with Ben directly. So there's been more conversations. I can tell you for sure that those conversations have not progressed...You don't make progress without first having a foundation of dialogue, and that's where we've gotten to, and we need to continue that and hopefully those get somewhere, and we shall see."
[17:08]
"The one thing we're all in agreement on is we would like a win-win trade, a trade that helps the 76ers, it's most likely gonna help Ben in his mind of what his goals are, and we'd like to accomplish that by the February 10th deadline. If we don't, then I think this foundation of dialogue we've established, we'll see if that can help us work through things if there isn't a trade."
[21:35]
"I 100% believe he can play for us again, and he'd be literally almost the perfect player we could have to pair with Joel Embiid...It doesn't even take that difficult a look to say our defense goes from the best in the league to average. That's a massive part of the game, and Joel and Ben together always put together an elite defense. That is so important for playoff basketball... our rebounding has gone from 10th to near the bottom of the league... the only difference between last year's team and this one is really Ben Simmons...The reality is the core of our team's the same, and it has a Ben Simmons hole in it. It really does."
On where the relationship with Simmons broke down
[18:58]
"It's very surprising to me, and everybody. I think everyone needs to look in the mirror. I know I look at the mirror with myself. What could I have done better? Could I have established a better relationship with Ben? I would say yes. Everyone, I think, needs to look in the mirror and figure out how to do better, because this is not a good situation. We're all responsible, on all sides."
[19:30]
"You'd probably have to have Ben on himself to have him explain it to you. I can't really tell you. It's obviously not something I understand, but it doesn't matter what I think. It matters what Ben thinks. It matters how he's looking at it. And this is how he's looking at it. All we can do is work through that, work with him, and try to get where we have the best chance to win the championship.
[19:59]
"But it's very surprising to me. I think, look, if you were to poll all 420 players in the league, I would say 370 of them would be dying to play for Joel Embiid and the 76ers, and the fact that we have a player who doesn't want to be on the 76ers is surprising to me, and it's frustrating. And I think everyone has to take some responsibility, including myself, of where we're at."
Comments